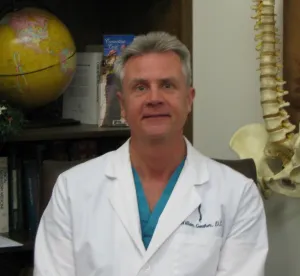 Dr. William Genther is a licensed Chiropractic Physician who has been serving the Wilmington Community for the past 26 years. He graduated in 1982 from National College of Chiropractic in Lombard, Illinois. Dr. Genther has served as a past Vice President of the North Carolina Chiropractic Association. Dr. Genther utilizes the latest chiropractic technology to help his patients reach their optimum level of health, naturally!
---
Dr. Genther is trained in the following specialties:

• Certified B.E.S.T. Doctor ( Bio-Energetic Synchronization Technique )
• Certified Cold Laser Treatment - Gonzalez Rehabilitation Technique
• Certified Total Body Modification ( TBM )
• Light Force Manipulation Device - Dr. Creed
• Brain Based Therapy - Dr Michael Johnson, Certified Chiropractic Neurologist
• Non-Surgical Spinal Decompression
• Certified ATM2
Dr. Genther has served our community in many capacities over the last 26 years.
• Instructor of over 25 "Nutrition From The Bible" classes at New Hanover County Churches
• Appeared as " Mr. Bones " at New Hanover County Schools
• Science Olympiad Instructor in Neurology, Anatomy and Cardiac Physiology
• Cape Fear Council - Cubscout Leader
Boyscout Assistant Leader
• "Chiropractic as a Career" Instructor at New Hanover County Schools
• Back Safety Continuing Education Instructor for Nurses and CNAs
• Stress & Nutrition Community Workshop Leader in New Hanover County
When Dr. Genther is not serving his patients, he is enjoying time with his wife, Patricia and their three children: Vicki, Alex and Matthew.The family enjoys playing pong, taking nature hikes and fishing.
Dr. William Genther has been freeing people from pain in the clinic in Wilmington, NC. As a Chiropractor with experience, Dr. Genther is committed to promoting optimal health and well being of patients.
Dr. Genther uses a "whole person approach". This approach to wellness means looking for underlying causes of any disturbance or disruption (which may or may not be causing symptoms at the time) and make whatever interventions and lifestyle adjustments that would optimize the conditions for normal function. Using this unique approach, Dr. Genther is able to help you to accelerate and/or maintain your journey to good health.
Dr. Genther believes the structural, emotional and nutritional aspects of life must be addressed for optimal health and function.